An open sky and a set of wheels is all we need sometimes to feel free from everything.
Just, picture yourself driving on a beautiful summer afternoon with the wind gushing through your hairs as you race down the open road with the blue ocean on one side and Dubai city on another in a gorgeous and ultra- cool convertible.
That awesome feeling though!
For a while, every convertible car lover will slip into having it but then who wants to pay millions for a car that is not perfect for every time.
Good news is that you don't have to. You can rent a car in Dubai at affordable rates and that too your favourite convertible. Here are the best ones to rent for a ride in Dubai and save money on your next trip, whether it is a weekend break or a cross-country odyssey.
 Lamborghini Aventador Roadster 2016
The Lamborghini Aventador Roadster is an open-top luxurious car that combines sportiness and style. One of the best of the supercars that just doesn't grab your attention or turn heads but dares you to take things to the next level. The design of the car is inspired by the aerospace industry and hence it doesn't look like just another street car but a fighter straight out of "Star Wars."  This luxurious car is gorgeous inside out. Breathtakingly beautiful outside and futuristic, edgy, and jet-inspired inside.
Awestruck just like we are?
Well, you can rent this luxurious car in Dubai on a daily, weekly or monthly basis depending on your requirements and on good rates.
Porsche Boxster 2017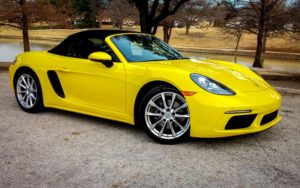 Have you found yourself craving the high performance of an electrifying convertible in order to take full advantage of the beautiful roads in Dubai? Porsche Boxster can satiate all such desires. With a flashy exterior that speaks confidence and ultramodern interiors, this luxurious car proves its worth by the offering every driver a ride to be remembered for life. Rent a Porsche Boxster in Dubai this weekend and set off for a beautiful journey.
Ford Mustang Convertible 2017
Ford Mustang Convertible 2017 is drop-dead gorgeous that is perfect steed for sunny weekends. Engineered for the pure exhilaration, this luxurious car is one of the best open-air cars that will provide you with an adrenaline pumping performance. So fasten your seat belt and put your hands on the wheels of the Mustang and one thing is guaranteed: purely exhilarating experience.  If you are up for the power packed performance and want to hit the road, rent a Ford Mustang Convertible 2017 today.
Well, you can hire this car in Dubai, Sharjah & Ajman on daily, weekly or monthly basis depending on your requirements and on good rates.
Audi A5 Convertible 2017
Are you looking for a convertible that is luxurious as well as spacious? Then this Audi fits your desires very much. Audi A5 convertible is a perfect car for an open-air driving experience and is good in many ways. This car comes with a foldable roof and has a full four-seated interior with a space to match that of a family hatchback. A stylish convertible that has a classic "look at me" design with elegant exteriors and high tech interiors. The strengths of this luxurious convertible include a posh interior, composed handling, and the four-season competence of Quattro all-wheel drive.
Scale the open skies of Dubai in an Audi A5 this weekend and let the warm breeze make you feel free like a bird. Hire an Audi A5 Convertible 2017 in Dubai today and get amazing deals on car rentals.
BMW 4 Series Convertible 2017
Planning to race down the road to downtown Dubai? Or just want to explore more hidden places around? Wherever you're looking to go, BMW 4 series will perfectly match to your lifestyle. Build on the elegant and luxurious look of 4 Series Coupe, this car leads the open top style convertibles so far. This is designed to turn heads and to be noticed. Not only that, it is fast, entertaining and comfortable too.
This convertible car looks absolutely gorgeous and has taken the sports coupe segment by storm although the car made its debut a year ago. If you are thinking to rent a BMW 4 Series in Dubai for your next ride then think no further because this car is an answer to all your open-air car whims.
Feeling the wind in your hair already?
Then get ready to hit roads this weekend with your squad or the special ones in your life.
If you are worried about the rates? Then worry no more!
As you can avail this luxury without breaking your bank.
With our weekend deals and easy bargain available you can rent these convertible cars in Dubai, Deira, Sharjah, Ajman & Abu Dhabi on a weekly, daily, monthly basis and that too on very competitive rates. So a sporty convertible is a click away.