The list of famous tech leaders is incomplete without Steve Jobs. He is an inspiration to young entrepreneurs who want to make a change in the world, like the legend himself. He departed from this world in 2011. But his aura, legacy, and invaluable life lessons still live on. We all are aware of his creative mind that has given us cool gadgets like Macbooks, Macs, iPhones, iPads, and iPods. And yes, we are well acquainted with Steve Jobs' management style.
His exceptional management skills blended with innovation turned Apple into a huge tech giant. So, if you are amongst those entrepreneurs who are aiming to jump-start their startups or kick off your business, then you have landed on the right page. We have summed up some management mantras of` one of the greatest genius of our times that will change take your business to the next level.
1. Your team needs a passionate leader!
"Passion and Innovation distinguishes a leader from the crowd".
Steve jobs believed motivation and passion are the two main components for sure shot success. What made Apple, "The Apple" was his passion to go a mile extra, put in a little more effort to deliver the best. As said by Jobs "I think the things you regret most in life are the things you didn't do."
So, a quick lesson for you is to stay motivated, bring in new ideas and have the confidence to work towards your vision. Passion drives the business to success. If you are passionate about your work, your employees will follow. Take interest in all the areas of your business, give feedback to your employees and engage with them regularly. A perky and energetic leader calls for an efficient team.
2. Craft a vision and work towards it
One of the many phrases of Jobs that give us insight about his exceptional mind is "Make it great!" His company, products, and life are an outcome of his vision. He worked hard while keeping his vision alive, and rest followed. So, as a business entrepreneur, what will distinguish you from the rest of the people out there is your vision. Expand your goals, challenge your abilities, and lead your team accordingly. If you have an open perspective only then you can achieve big things in life.
3. Hire Creativity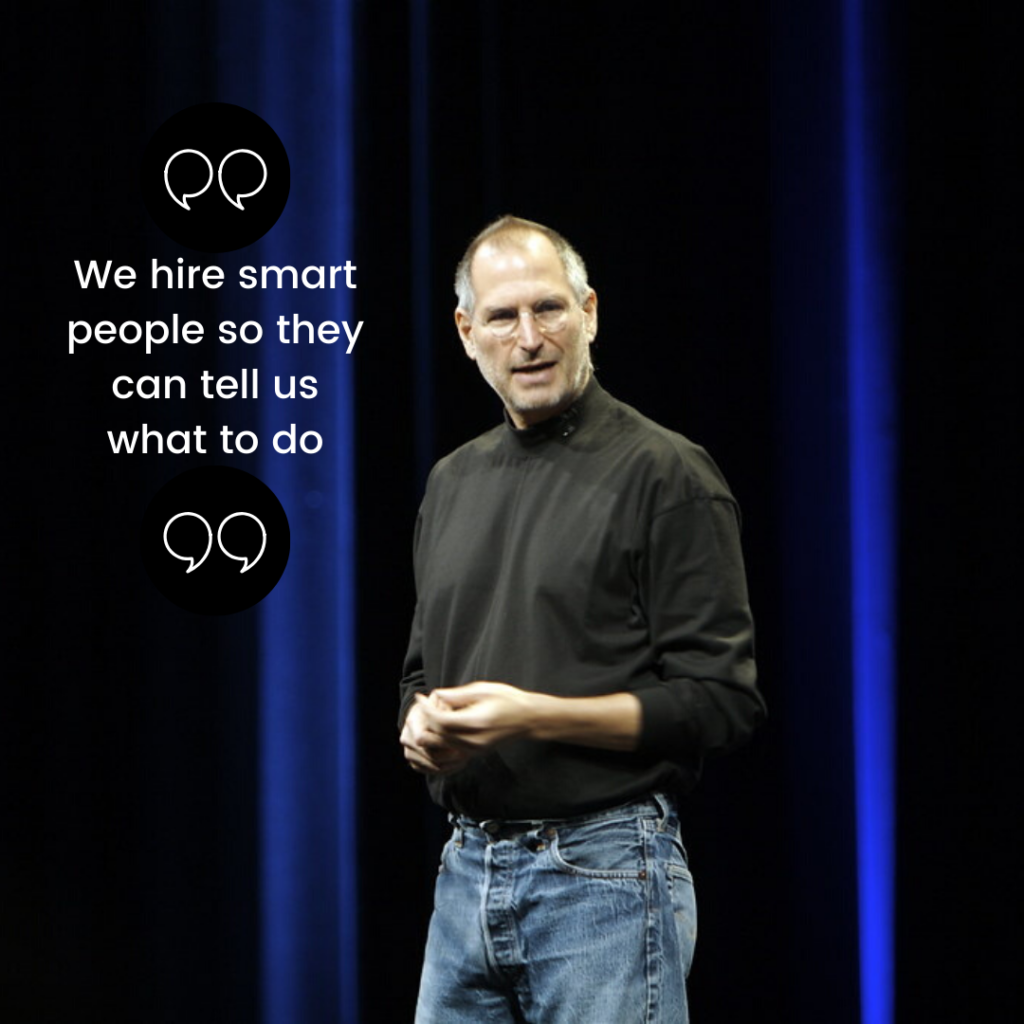 This one's really important. The efficiency of your team can dictate the success of your business. Jobs had always believed in "Thinking Different" and this was exactly his mindset when hiring people. He did not just go by the norms and hired people with high qualifications and technical degrees. He chose people who were innovative in their own special way and happened to be computer scientists as well. So, lesson number three is to find the perfect match for a post by not just looking at the degree of the candidate but by digging deeper. Those genius minds may be hidden behind those crazy ones.
Think Different

Steve Jobs
4. Failure is a ladder to success
Jobs never considered a failure as a setback in his life. For him, it was an opportunity to start as a beginner again with an open and light mind. Jobs rightly said "Sometimes when you innovate, you make mistakes. It is best to admit them quickly and get on with improving your other innovations." So, instead of fearing failure, you should take it as a learning experience and move on. Failure and roadblocks will lead you to good things eventually. It will help you identify problems and provide an opportunity to rectify them. You will grow only when you know your weaknesses and grow above them.
5. Communication is the key!
One of the most crucial skills that you should pick up from Steve Jobs is his interaction with his employees. He made sure his team was in touch and discussed the tasks to be done. He planned an extensive meeting with his team on Mondays to decide the workflow for the week. Most of us don't realize the importance of such small efforts. Communicating constantly with your team will keep everyone on the same page. They say "if you want to go far, then go together". So, working together with your team will definitely reap better results.
You don't know what ideas are out there in those minds yet to be explored. Sometimes great ideas nurture from such discussions.
6. Look at the big picture while keeping minuscule details in mind.
As said by Charles R Swindoll
The difference between something good and something great is attention to detail." And Jobs was very well aware of this.
One of the great things about him was his attention to large as well as negligible issues. He was one of those people who had a great vision who knew success lies in the details. In 2000 he came up with the idea of converting personal computers to digital hubs, where a user can store all his data in one place. And in the year 2010, he rediscovered the idea of data storage by bringing the idea of cloud into the picture, where people can sync all their data. So, he had a vast vision but at the same time, he was fretting about the color and shape of the screws inside Mac.
So, your way to stand out is to pay attention to detail while keeping your vision alive.
I hope you will benefit from this article and use these Steve Jobs' management style skills to expand your business.