If you wonder, where can you invest your interests and self, in Dubai? Here is the answer. Dubai has become a dream destination for millions around the world in terms of work, living and investments. Over a few decades, the transformation in economy and finance in Dubai has raised it to top cities in the world.
New sectors met with innovations are creating more venues to explore. Dubai is competing almost in every sphere of trade and commerce.  Dubai has earned its reputation by achieving the challenging marvels. Here are a few emerging and flourishing economic establishments in Dubai.
1- Banking and finance:
This region of Arabian Peninsula has attracted many by its growing wealth, Trade with neighboring states, Investments in M&A, reformation of State-owned companies, other corporations and Private tie-ups, banks and brokerages emerged in numbers to establish a presence in Dubai. Here is a brief of City business present and future.
Dubai, World's 1st City equipped with Blockchain-technology by 2021.
Dubai, Region's no.1 Country on World Bank's Ease of Doing Business report 2018.
US$7.43 Billion, worth of FDI in 2017 by Dubai.
US$560 Million, investment made in MENA start-ups in 2017.
The Banking and Financial management efficiently managed money which was immensely made fast and quick, with the help of currency counting machines in Dubai. For keeping records fast efficient and accurate. The need emerged, as large amount of money is being circulating in and out.
 2- Construction and Real estate: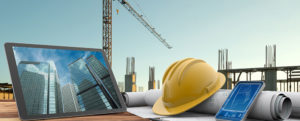 Construction and engineering means a great deal of money dealings both at minimal level and at the top level. Exploration of possible dimensions in construction field with scientific inventions is the backbone of Dubai.
People round the globe want to be part of such marvels and structural wonders. The flow of income is maintained and easy transactions are made a part of Real estate for global customers.
Demand for Engineering and production professionals is strongest among all occupational groups, up by 23% between October and March. It's a prime destination innovation for green technology, businesses and investors. MEED Projects estimated the total value of projects either in the planning stage or in the delivery stage across the GCC is US$2.7 trillion.
US $ 42.5 Billion will be spent for Expo 2020 Dubai – infrastructure projects.
Dubai becomes 1st city in the Middle East faithful to UN's Building Efficiency Accelerator (BEA) initiative.
Dubai's world infrastructural claim, of delivering 163,000+ new homes by 2021.
3- Oil and Gas: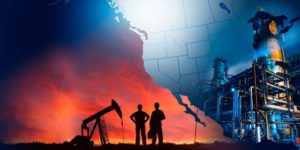 The industry has a vast network from a consumer, to retailer and the owners of plants and industrial establishments. The monetary involvements help in accumulating an economic relation between nations and international markets.
Oil and gas represents one of the core elements of the UAE national economy. Since the opening of the first oil fields, this economic sector has completely replaced such traditional activities as pearl fishing, date palm plantations and fishery. The products of the oil industry are also the main source of revenue from the export of raw materials. The industry of oil and gas has provided with a sufficiently high level of per capita income.
The United Arab Emirates is located in the Persian Gulf and has shipping ports for international transportation. Shipping terminals are supplied with the modern equipments and the appropriate infrastructure. Transportation is carried out by oil tankers throughout the world's major ports.
4- Retail trade and Logistics: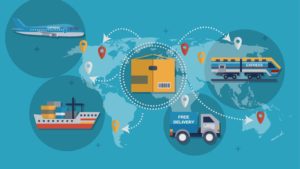 Parallel access to the world's growing economies through land and sea, Dubai's geography and strategic location is logistically natural gateway of trade between East and West. With its vast trade ties, Dubai is a focal point for global distribution with its low logistics costs and superb infrastructure (ranked #1 in the Middle East by the World Bank) have led to strong foreign investments.
Connected with wired and unwired transactions globally, the transactions take place on a wider range. In 2017 transport and storage accounted for 11.2% of Dubai's economy at a value of Dh46.1bn ($12.5bn). Dubai recorded US$ 404 Billion, Commodities trade in 2017.
US$ 7.43 Billion FDI flow in 2017.
No.1 in MENA, on World Bank Logistics Performance Index.
1.1M vehicles moved through JAFZA in 2017.
5-    Tourism and Hospitality industry: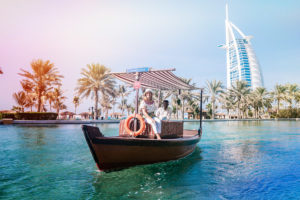 Tourism and Hospitality brings in the world of different currencies and transactions to Dubai. The Hotels, Bars, Casinos, Night clubs, Beautiful Malls and other attractions are a hub and center for attraction in Dubai. They require facilities and services which will have an impact on people visiting Dubai. A cultural value is defined by welcoming a guest and hospitality shown to them.
Dubai has open arms and doors for whole world. It welcomed 15.8 million international overnight visitors in 2017. And set out a record for whole Arab Emirates, underlining the Potential, strength and dedication of its tourism sector.
2017 tourist volumes represented a strong 6.2 per cent year-on-year increase, accelerating the 5 per cent growth witnessed in the previous year and propelling momentum towards its 2020 goal of welcoming 20 million visitors per year.
Dubai is aiming to cater 164,000 hotel rooms to travelers by 2020.
US$31.3 Billion Dubai #1 in the world in visitor spends annually.
Dubai is expecting 13% of annual growth in four-star hotel inventories.
The Dubai is set to grow exponentially with over 25,000 rooms joining the market by 2020.
Dubai is a global village and a heaven of opportunities, a world with vision, innovations and technological advancement. Participation in its endeavor offers a secure future of long lasting investments.
If you are planning to travel to Dubai or work in Dubai in any industry, you are with the tide. It is due to this growth that even Jobs in Dubai have seen a dramatic rise in the past decade. So buckle up and explore Dubai and its ventures.